The DigitalHealthUptake Project Opens a Call for Twinnings to facilitate the transferring of innovative digital health practices across Europe
The DigitalHealthUptake project has just launched its Call for Twinnings, offering a remarkable opportunity for organizations to transform healthcare across Europe. From 13 June 2023 to 13 September 2023, interested parties can apply to be part of the nearly €100,000 available to support multiple twinning Initiatives.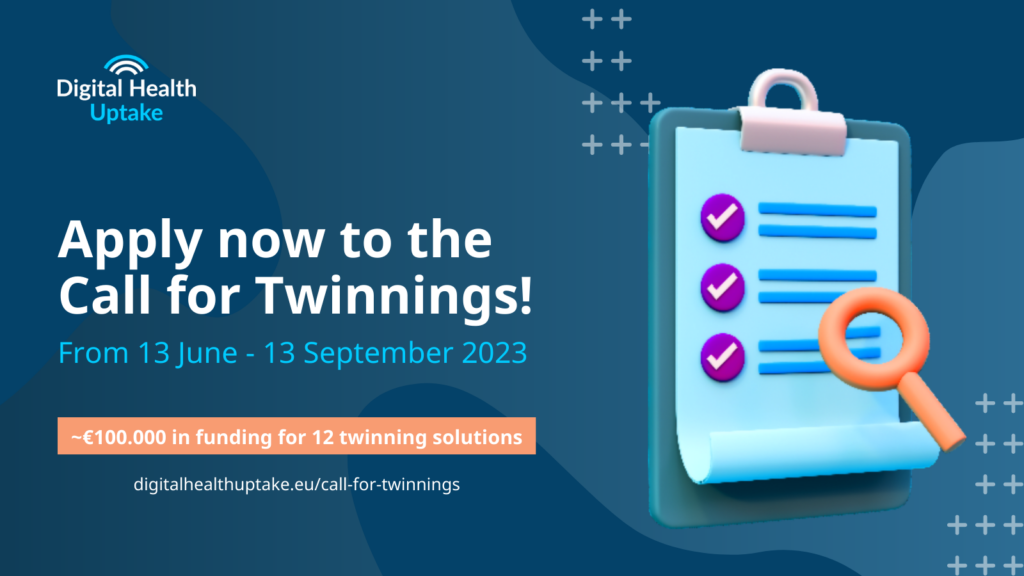 ---
But what exactly is a Twinning?
It's a mechanism designed to transfer and implement innovative digital health practices from one region/country to another. The goal is to share knowledge and skills from the Twinning Originator to the Twinning Adopter(s), enabling them to utilize innovative solutions for improving health and care services.
The goal of DigitalHealthUptake's Call for Twinning, running from 13 June 2023 to 13 September 2023, is to provide funding for Twinning Solutions. A budget of €96,000 has been allocated to fund 12 potential Twinnings to stimulate knowledge exchange, training, digital know-how transfer, and the adoption of innovative practices between European regions and countries.
What types of twinning solutions are being funded? 
Twinning solutions should address policy priorities and be evidence-based, innovative digital products, services, processes, methodologies, strategies, or business models. The topics of this call are focused on solutions for citizens/patients or care practitioners, such as digital tools for health education, mHealth systems, patient feedback tools, and telemedicine.
Why Should You Apply to the DigitalHealthUptake Call for Twinnings? 
Participating in the DigitalHealthUptake Call for Twinnings comes with numerous advantages. Through knowledge exchange, organizations can gain insights, access to innovative solutions, and invaluable networking opportunities. Additionally, the funding available will enable organizations to implement transformative digital applications that have the power to revolutionize health and care in Europe.
How to Submit a Twinning Application 
Download the Main Application form from the project website: https://digitalhealthuptake.eu/call-for-twinnings
Fill out the form after completing a short online identification form.
Timeline
A detailed timeline of the Call for Twinnings can be found on the DigitalHealthUptake project website, which includes two explanatory Webinars on the 21st of June (Register here) and the 18th of July (Register here) for interested applicants.
For more information, please download the complete Call for Twinnings at https://digitalhealthuptake.eu/call-for-twinnings or contact
---